Ok, so here's the deal. I have three more nights of class (with a month break before starting up again), a pair of socks that must be knit by Aug. 2, at least two baby knit projects (one is a third of the way done) that I would like done before I evict the baby boy from my womb, crib linens to sew and some painting to finish up all before the baby comes. Now, I got a lot done this past weekend as far as the painting and such goes, and that should all be done by the end of this next weekend. Which leaves the sewing and knitting. Shouldn't be a problem right? Wrong.
The pattern that I picked out for my 'Palooza socks isn't a quick knit, and I'm wondering if it's even worth it since the pattern is getting lost in the color changes between the plies of the yarn. See for yourself... I might just rip this back to the ribbing and knit plain for myself after the Palooza is over with. And while I want my pal to have socks out of this yarn, I'm thinking that I'll just send her two balls of it and let her work it out herself.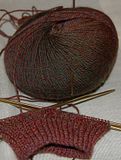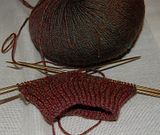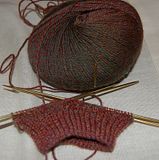 So, what then do I knit for her? I've got some Wildfoote (that I absolutely love working with-- it helps that it's a local fiber for me as well) that I'd be willing to part with (I can always get more in this colorway). But, now I have a whole new pattern to search for, unless I knit yet another pair of Baudelaires; while easy as they are for how they look, I don't think I'd get excited over yet another pair.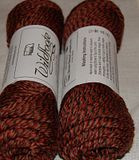 This would be the Wildfoote that needs a pattern to go with. Any suggestions?
(As always, images are clickable.)